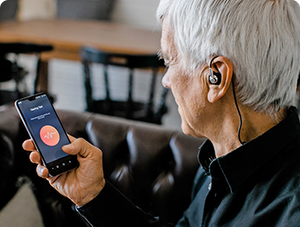 The ultimate hearing experience
Annual General Meeting - 2022
Annual General
Meeting 2022
Documents for download
Notice, agenda and complete proposals
The proxy form or the postal vote form
Practical Information
Registration date, right to attend and vote
The registration date of shares held by the shareholder is Thursday, 14th of April 2022.
A shareholder's right to participate in a general meeting and to cast vote is determined on basis of the shares held by the shareholder on the registration date. In addition, participation in the general meeting is conditional upon the shareholder having registered in due time as described below.
Registration for the general meeting
Access to the general meeting is conditional on the shareholder registering for the general meeting no later than Monday, 18th of April 2022 at 11:59 PM.
By registering electronically via the Investor Portal, or at the website of VP Securities A/S, www.vp.dk/agm, or by filling in the registration form and sending it via e-mail to vpinvestor@vp.dk. You can download the registration form here.
After registration the shareholder will receive an e-mail (at the e-mail address the shareholder has provided as part of registration) confirming the registration and information on the procedure relating to participation.
A shareholder or a holder of a proxy can participate in the annual general meeting together with an adviser, provided that notification of the adviser's participation has been provided.
Questions concerning registration for the annual general meeting or the use of the Investor portal, may be answered by Audientes A/S, Investor Relations, by calling the Company on +45 77 34 16 80 (weekdays 9:00 AM to 4:00 PM CET).
Proxy or postal vote
If you are unable to attend the general meeting, you can:
• issue a proxy to a named third party who will then receive from VP Securities A/S an electronic link giving access to the general meeting; or
• issue a proxy to the board of directors for voting in accordance with the recommendations of the board of directors; or
• issue a proxy to the board of directors for voting in accordance with your instructions; or
• vote by postal vote
You can submit your vote or issue a proxy electronically via the Company's Investor Portal or at www.vp.dk/agm.
Alternatively, the proxy form or the postal vote form may be downloaded here
Or at www.vp.dk/agm, then printed and sent by email to vpinvestor@vp.dk or by ordinary mail to VP Securities A/S, Weidekampsgade 14, DK-2300 Copenhagen, Denmark. Please consider the delivery time if the postal vote or proxy form is sent by ordinary mail.
The proxy must be received by VP Securities A/S no later than Wednesday, 20 April 2022 at 11:59 PM.
The postal vote must be received by VP Securities A/S no later than Wednesday, 20 April 2022 at 11:59 PM.
Additional information
Prior to the annual general meeting, the shareholders can in writing ask questions to the Company regarding the agenda and/or the documents prepared for the annual general meeting.
In the interest of proceedings and to the extent possible, the Board of Directors encourages shareholders to submit questions in writing ahead of the general meeting.
Written enquiries can be sent to Audientes A/S via email to st@audientes.com or via post to Audientes A/S, Teknikerbyen 5, 2., Søllerød, 2830 Virum, att. CEO Steen Thygesen.
A revolution in hearing
For the first time ever, you can get a high-quality hearing test – and a pair of hearing aids perfectly adapted to your hearing – all from the comfort of your own home. That's the self-fitting advantage – no appointment, no wait time.
You're in cotrol
Ven gives you the freedom to run your own hearing test – right out of the box, wherever and whenever you want. Your personal hearing test results are available in just minutes. All you need is a quiet place. Everything else is in the box.
Crystal clear audio
After your built-in hearing test, Ven will adapt itself to your individual hearing profile, using the gold standard NAL-NL2 fitting algorithm. Get ready for crystal-clear audio, natural sounding speech and high-fidelity music.
From ear to ear
Ven is binaural, which means it works for both of your ears at once—no need for two devices or two trips to the clinic. Each ear gets its own custom profile.
No smartphone? No problem.
Everything you need comes built in to Ven, no app required. Hearing test? We've got you covered. Custom programs tailored to different environments? Got it. Volume and noise-cancelling controls? Check.
Let the Audientes app supercharge your experience
Available for iOS and Android devices, the Audientes app gives you access to even more features. Take an in-app hearing test. Fine-tune your personal settings. Add or delete location-based programs. And much more.
Adapting to you
As your hearing changes, so does Ven. Take a new hearing test whenever you like. Over-the-air software updates ensure that Ven is always using the latest hearing profile are stored securely in the cloud.